Do You Know the Cost of Renting vs. Buying? October 16, 2016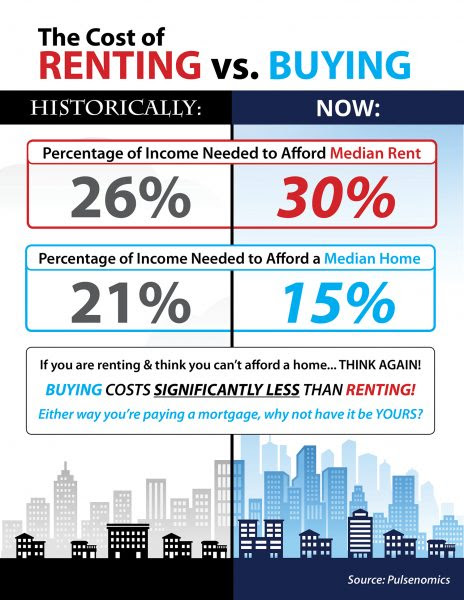 Some Highlights:
Historically, the choice between renting or buying a home has been a close decision.
Looking at the percentage of income needed to rent a median priced home today (30%) vs. the percentage needed to buy a median priced home (15%), the choice becomes obvious.
Every market is different. Before you renew your lease again, find out if you could use your housing costs to own a home of your own!
Algunos aspectos destacados:
Históricamente, entre alquilar o comprar una casa ha sido una decisión cerrada.
Mirando a el porcentaje de ingresos necesarios para alquilar una casa con precio medio hoy (30 %) vs. el porcentaje necesario para comprar una casa con precio medio (15 %), la decisión se vuelve evidente.
Cada mercado es diferente. ¡Antes de renovar su contrato de alquiler otra vez, averigüe si usted puede utilizar sus costos de vivienda para poseer su casa propia!